To come up with this list, we have tested more than 15 forex brokers authorized and operating in Switzerland.

We opened a real account and deposited between €4,000 and €6,000 with each broker. We placed real trades in each popular market to get the real spreads.

We also reached out to customer support to solve issues that we had encountered. Finally, we withdrew our funds to see if there is any issue with the withdrawal process.

We handpick the best forex brokers in Switzerland based on our trading data and experience as a trader.
FINMA-Regulated Forex Brokers
The Swiss Financial Market Supervisory Authority, popularly known as FINMA, is the authority in Switzerland to implement financial regulations and is responsible to oversee forex brokers.
FINMA was established in 2007 by the Swiss Parliament and operates independently from other financial agencies in the country. The scope of the agency includes the regulation of banks, stock exchanges, stock brokers, forex brokers, insurance companies, fund managers, and all other players of the financial market.
The official website of FINMA is www.finma.ch, which is available in four languages: English, German, French and Italian. The official Twitter handle of FINMA is @FINMA_media, and we highly recommend investors and traders follow the regulator on social media for important updates.
When it comes to regulators, FINMA has strict guidelines. Forex brokers under the regulator need to register as banks. This requires companies to have much higher operating capital that minimizes the chance of bankruptcy in case of any market mishap.
FINMA-regulated brokers also need to provide direct market access and cannot operate as counterparties. They can also act as liquidity providers and redirect orders to the broader interbank and global exchange pools.
Furthermore, Swiss forex brokers can offer a maximum leverage of up to 100:1 on major currency pairs. The brokers also have to provide negative balance protection and there is also a compensation scheme of CHF 100,000 per client.
FINMA is also very strict with regulations and can suspend the licenses for severe violations of compliance rules and can initiate investigations. However, the regulator has some limitations too. The agency cannot impose fines or penalties on any financial market participant, including forex brokers.
Some of the key highlights of trading with FINMA-regulated brokers:
| | |
| --- | --- |
| 🏦Regulator | Swiss Financial Market Supervisory Authority (FINMA) |
| 📊Max. Leverage | 100:1 |
| 🛡️Is It safe to trade | Yes |
| 🔒Negative Balance Protection | Yes |
| 💰Compensation Scheme | Yes (CHF 100,000) |
Best Forex Brokers in Switzerland
To select the best regulated forex brokers operating in Switzerland, we have tested and reviewed several forex brokers. We opened a live account, deposited real money, and placed real trades with each broker. With our test, we got a picture of the real spreads and commissions, trading platforms, deposit and withdrawal conditions, educational resources, and customer services.
IG Markets – Best Overall Forex Broker in Switzerland
Interactive Brokers – Best Forex Broker for Beginners in Switzerland
Swissquote – Best MT4 Forex Broker in Switzerland
Saxo Markets – Best Forex Trading Platform in Switzerland
Dukascopy – Best Forex Broker with Lowest Spread & Trading Fees in Switzerland
Best Overall Forex Broker in Switzerland
We picked IG Markets as the overall best forex broker in Switzerland.
IG Markets, which is headquartered in London, offers versatile services when it comes to trading forex and CFDs. The platform lists over 17,000 trading instruments across various asset classes including forex, indices, stocks, commodities, cryptocurrencies and others. The spreads charged by the broker are also on the lower side.
IG further offers an array of deposit and withdrawal methods and has minimum non-trading fees. The broker also has an excellent customer support team that is very crucial to traders.
IG operates in Switzerland with a FINMA license. The broker is also licensed in the United Kingdom, Germany, Cyprus, Switzerland, the UAE, South Africa, Singapore, Japan, Australia, New Zealand, the United States, and Bermuda. Being a publicly listed company, IG is an extremely safe platform.
Best Forex Broker for Beginners in Switzerland
We picked Interactive Brokers as the best forex broker for beginners in Switzerland.
Interactive Brokers is a well-regulated broker and offers services around the world, including Switzerland. It is one of the best platforms for beginner traders or both simplicity of trading and vast educational resources. It offers detailed guides on markets and trading techniques. Traders can also learn from well-explained videos.
It conducts webinars for forex traders. The broker also offers in-depth market commentary and analysis by dozens of professionals. Apart from the beginner-oriented educational resources, Interactive Brokers offers trading services with a wide range of products.
Best MT4 Broker in Switzerland
We picked Swissquote as the best MT4 broker in Switzerland.
Swissquote is a FINMA-regulated bank and brokerage that offers forex and CFDs trading on three platforms: MetaTrader 4, MetaTrader 5 and Advanced Options, which is a proprietary platform. The broker offers MetaTrader platforms on desktop, mobile and web, integrated with standard indicators and market analysis tools. Clients of the broker can also upgrade their MetaTrader trading platforms with a Swissquote plugin that provides additional tools and indicators.
Swissquote additionally offers a wide range of trading products that include forex pairs, and stocks, indices, commodities and bonds. It also offers cryptocurrency CFDs and expanded its services aggressively over the few years.
Best Forex Trading Platform in Switzerland
We picked Saxo Markets as the best forex trading platform in Switzerland.
Saxo Markets is a Danish company and is regulated in Denmark, the UK, Italy, Czech Republic, the Netherlands, Singapore, Switzerland, France, the UAE, Japan, Hong Kong and Australia.
Forex trading offerings of the Saxo Markets are excellent. It offers more than 180 currency pairs for trading and lists other popular assets like cryptocurrencies and commodities. It also offers forex options with 44 forex vanilla options with maturities from one day to 12 months, along with 6 FX touch options to only professional traders.
Best Forex Broker with Lowest Spread & Trading Fees in Switzerland
We picked Dukascopy as the best forex broker with the lowest spread & trading fees in Switzerland.
Dukascopy is an excellent broker when it comes to fees. According to our tests, the broker charges an average spread of around 0.8 pips on the EUR/USD pair, which is much lower than the industry standard average of 1.6 pips. Spreads on trading instruments of other asset classes are also below or around the industry average. It offers an ECN trading account, along with an MT4 one, and usually charges a commission for trade executions.
Dukascopy is headquartered in Switzerland and is locally regulated by FINMA as a bank. The broker is also registered and regulated in Japan and Latvia.
FINMA-Regulated Forex Brokers List & Review
Here is a list of the regulated forex brokers operating in Switzerland and regulated by FINMA, which we have tested by opening real accounts, depositing real money, executing trades, and then withdrawing all funds.
FAQ & More on Switzerland Brokers
Traders usually have many questions related to trading generic trading-related queries. We tried to pick and answer some of the most important queries related to FINMA-regulated brokers.
How to Verify FINMA-Regulated Brokers?
Being one of the top financial markets regulatory authorities, FINMA keeps details of all authorized financial services firms in the public domain.
To check the authorization details of any firm, go to www.finma.ch/en/finma-public/authorised-institutions-individuals-and-products/ and type the name of the company in the search bar. If it is registered with FINMA, the database will show details of the firm.
Additionally, the complete database of all FINMA registered and authorized companies can be downloaded here. FINMA regularly updates this database.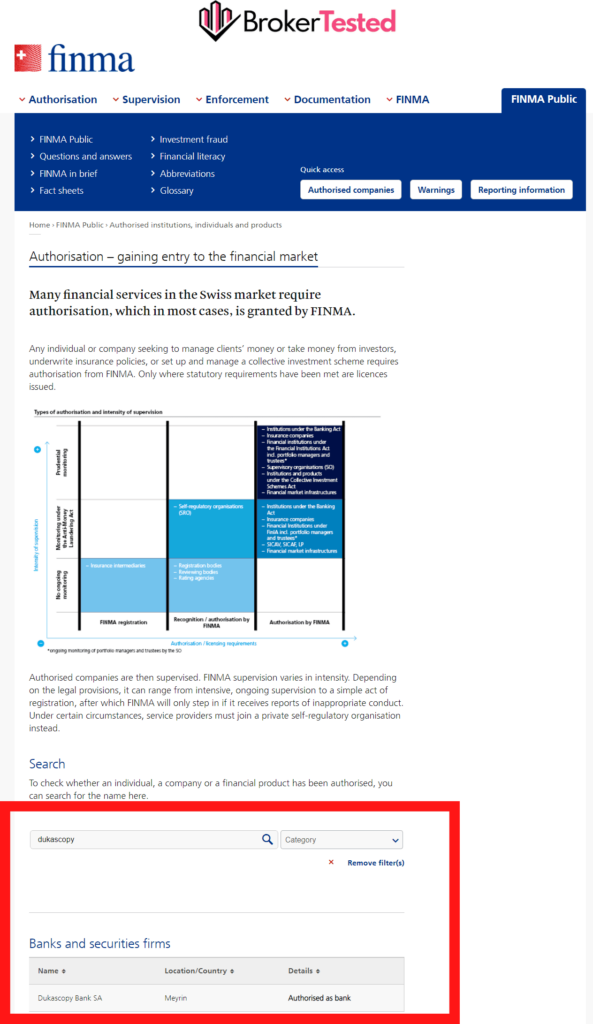 ECN Brokers in Switzerland
ECN brokers are popular among professional traders as they provide raw market spreads with direct access to a pool of other traders with an electronic network. Dukascopy is the only true ECN forex broker in Switzerland.
MT4 Forex Brokers in Switzerland
MT4 trading platform is popular among the forex and CFDs brokers. Most of the forex brokers continue to provide services on the MT4 platform because of its popularity. Some of the FINMA-regulated MT4 forex brokers are:
Swissquote
IG Markets
Dukascopy
Low Spread Forex Brokers in Switzerland
Spread, which is the difference between the bid and ask prices of a trading instrument, is the primary source of income for most brokers. Some of the low-spread and low-fees forex brokers regulated by FINMA are:
Dukascopy
IG Markets
Saxo Bank
High Leverage Forex Brokers in Switzerland
FINMA is one of the very few reputed regulators that still allows brokers to offer a maximum leverage of up to 100:1 on major currency pairs. Some of the high0leverage FINMA-regulated forex brokers are:
Swissquote
Dukascopy
Corner Trader
Tax in Switzerland for Forex Trading
In Switzerland, forex trading is subject to taxation. However, there is a distinction between professional investors and private investors. The latter do not need to pay taxes. They are certain criteria that draw the line between professional traders and private ones. If, however, the traders are seen as professional, they pay annual taxes of 15%.
Traders should file the annual tax forms to the relevant institution of the country. Any delays or tax avoidance altogether are subject to penalties and fines.
Author of this review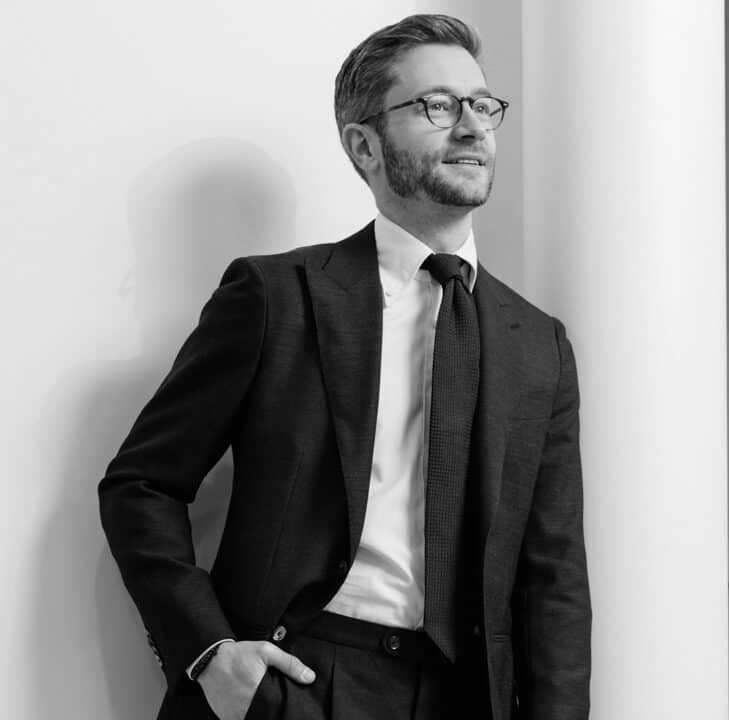 By George Rossi
Author of this review
I am a well-rounded financial services professional experienced in fundamental and technical analysis, global macroeconomic research, foreign exchange and commodity markets and an independent trader.
Now I am passionate about reviewing and comparing forex brokers.
Everything you find on BrokerTested is based on reliable data and unbiased information. We combine our 10+ years finance experience with readers feedback. Read more about our methodology